When you think of market sectors where you can find solid dividend yields, the first ones that come to mind are probably utilities, real estate, or consumer staples. It's not difficult to find yields of 3-4% in these areas of the market (and often times, higher depending on the fund and its strategy). One sector that's entering the dividend conversation is one that's rarely looked at for providing big yields: energy.
Over the past decade, the dividend yields of the biggest energy sector ETFs - the Energy Select Sector SPDR ETF (XLE) and the Vanguard Energy ETF (VDE) have hung around the 1.5% area.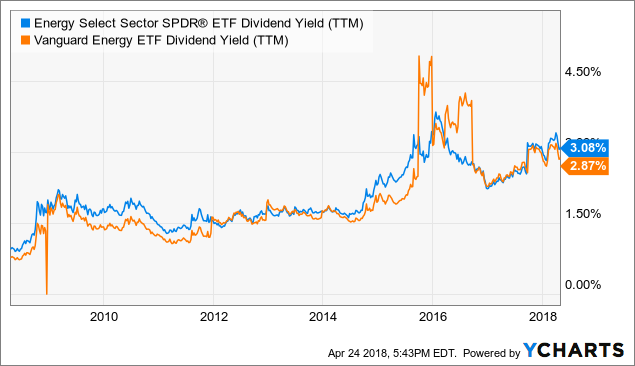 That was before the energy bear market that saw the price of WTI crude oil drop from over $100 per barrel down to below $27. While these two ETFs lost roughly half of their value during the downturn, the silver lining is that dividend yields started rising (the ones that were able to maintain their dividend payments at least!). Dividend yields which had traditionally been in that 1.5% range were now topping 3%.
Click the button below to read the rest of this original article on Seeking Alpha.
If you enjoyed reading this article, be sure to subscribe to the site and receive the ETF Focus Weekly newsletter absolutely FREE! Just check out the box below!