In what could conservatively be called an "improbable" performance, the stock market staged a remarkable 4th quarter rally that pushed the major indices well into double digit gains for the year, the 8th straight year that the market has seen gains. In the 4th quarter alone, the S&P 500 (NYSEARCA:SPY) tacked on 3.3% while the S&P 400 MidCap Index (NYSEARCA:MDY) and the S&P 600 SmallCap Index (NYSEARCA:SLY) gained 7.0% and 10.7%, respectively. For the year as a whole, S&P 500 returned 11.2%, the S&P 400 gained 20.4% and the S&P 600 added 27.8%.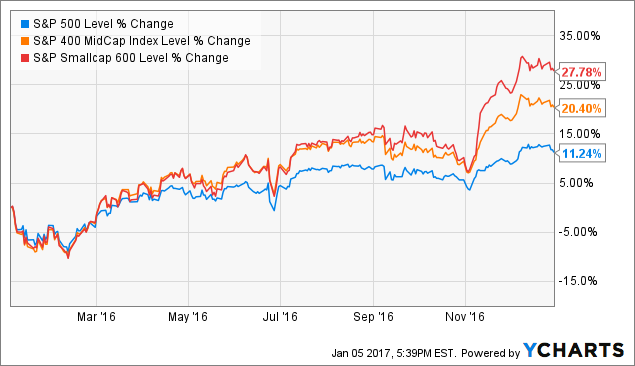 It looked like a much different story on election night though. As voting results started pointing towards a Trump victory, S&P 500 futures hit limit down dropping more than 800 points at one point in the evening. By the next day after traders had a chance to digest the election results, the market rallied on the hope that Trump could create a pro-business economic environment through financial deregulation and infrastructure spending. The market spent much of the year's final months testing all time highs and pushing the Dow within a stone's throw of 20,000.
Click the button below to read the rest of this original article on Seeking Alpha.
If you enjoyed reading this article, please be sure to share it below and subscribe to the site so that you don't miss any updates or new stuff! As always, thank you for taking the time to read!