If you're a shareholder of the iShares Edge MSCI USA Momentum Factor ETF (MTUM), take a moment to give yourself a pat on the back. If you owned this fund during 2017, you owned one of the best performing products of the year! Of all of the major factor tilts - momentum, value, size, quality and volatility - momentum stood out in a class by itself.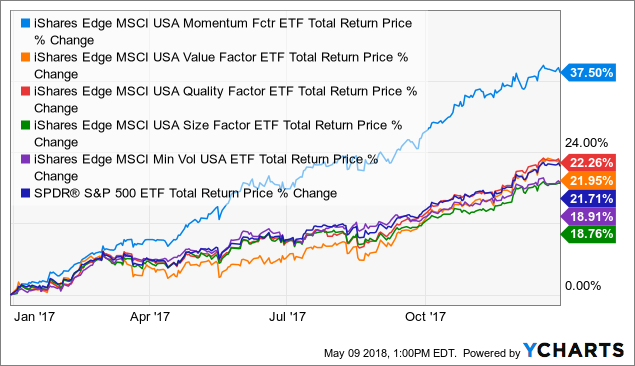 MTUM outperformed the S&P 500 (SPY) by a full 16% in 2017 on the heels of strong performances from the likes of Microsoft (MSFT), Boeing (BA), Amazon (AMZN) and Apple (AAPL). Tech stocks were a major part of the portfolio all year long, and, by the second half of 2017, financials accounted for between 20% and 25% of the portfolio following the semiannual rebalance. From a timing standpoint, things couldn't have worked out better. Tech stocks started the year leading the way and continued to do so throughout the remainder of 2017. Financials were the market's best performing sector from September through December.
Last year was a continuation in a years-long trend that has seen momentum stocks outperforming both the broader market and other smart beta factors. MTUM itself has only been around for about five years, but the fund's index has been backtested over nearly a quarter century. Over that time, the MSCI USA Momentum Index has beaten the broad U.S. stock market index by more than 3.5% annually. Perhaps more impressive is the fact that it's been able to generate those returns with only a bit more risk, giving momentum the clear advantage on a risk-adjusted basis as well.
Click the button below to read the rest of this original article on Seeking Alpha.
If you enjoyed reading this article, be sure to subscribe to the site and receive the ETF Focus Weekly newsletter absolutely FREE! Just check out the box below!