Note: Much of the research below was originally posted in my ETF Focus blog. It includes a lot of quick hits and thoughts as they're happening throughout the week.
Will Equities Rebound This Week?
It was a REALLY bad week for equities. The major indices (SPY) (DIA) (QQQ) (MDY) (SLY) dropped roughly 6%, with the mid-caps and small-caps faring slightly better. Tariffs and a potential trade war with China are the main culprits as Wall Street reacted in much the same way it did when Trump first announced the steel and aluminum tariffs.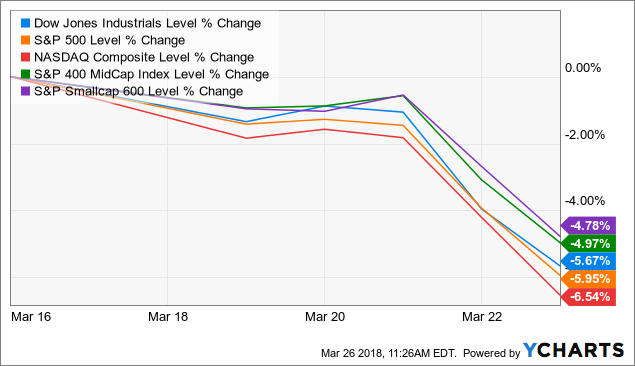 Every sector posted losses on the week with tech (XLK) and financials (XLF) doing the worst. Long-suffering energy sector (XLE) investors got a bit of a reprieve this week, thanks to rising oil prices. WTI crude is back above $65 and could be headed towards $70 as summer travel and oil demand can be expected to pick up. Tech was drug down by Facebook (FB) and Google (GOOG). Financials dipped after Wednesday's expected rate hike.
Click the button below to read the rest of this original article on Seeking Alpha.
If you enjoyed reading this article, be sure to subscribe to the site and receive the ETF Focus Weekly newsletter absolutely FREE! Just check out the box below!