Tech has been one of this year's top performing sectors so it shouldn't be surprising that the year's top performing fund is tech-focused. The ARK Innovation ETF (ARKK) may not be a household name yet but its ability to pick the right stocks at the right time this year is about to put it on quite a few radars.
The fund's primary target market segments are ones that have been in vogue all year - robotics, genomics and the cloud. All three areas fit ARK's overall objective of investing in disruptive innovations and technological advancements. Taking a deeper dive into the fund's composition, we can see that the fund has exposure to most of the biggest emerging technologies.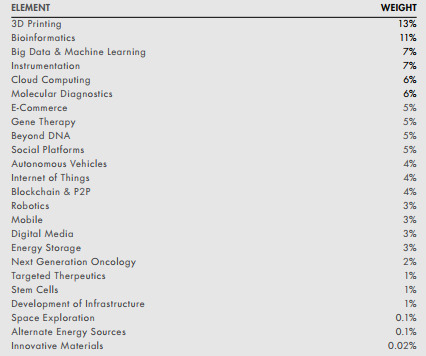 Consider for a moment some of the applications for some of these technologies on the list.
3D printing

- It's no surprise that 3D printing is at the top of the list, a technology with wide-ranging applications from manufacturing to medical technology to architecture. 3D printing technology is manufacturing

artificial human organs

. It can turn your

child's drawing into a figurine

. Heck, it built

this house

for around $10,000. The 3D printing market is expected to reach nearly $9 billion in 2017 and

grow to over $26 billion

by 2021.

Cloud computing

- The ability to access data from almost any computer or device in the world is becoming the norm rather than the exception. The cloud boom is breathing new life into previously stagnating tech companies such as

Oracle

(ORCL) and

Microsoft

(MSFT). The public cloud services market is expected to grow from $209 billion in 2016 to

nearly $400 billion

in 2020.

Autonomous cars

- Everybody thinks of Tesla (TSLA) when it comes to this segment but all the major automakers as well as companies such as Google (GOOG) and Uber are trying to get in on the action. This study from Intel and Strategy Analytics claims that the autonomous car market will be

behind

$7 trillion worth of economic activity

by 2050 - $4 trillion from driverless ride-hailing and $3 trillion from driverless delivery and business logistics.

Genomics

- The healthcare industry is making discoveries in medicine like never before. Advances are improving and extending human lives, identifying new drugs and the benefits are spilling over to areas such as agriculture and animal research. The genomics market is expected to

grow at around 10% per year and reach $20 billion

by 2020.

Blockchain

- The price of bitcoin gets most of the attention in the cryptocurrency world, but the blockchain network on which bitcoin and other digital currencies like ethereum are based has a number of real world applications. Blockchain is an open source platform that allows developers to build and run the programming code for applications. Earlier this year, some of the biggest tech names such as Intel (INTC), JPMorgan Chase (JPM) and Microsoft created the Enterprise Ethereum Alliance whose purpose is to develop and standards and practices that will allow businesses to more easily use the Ethereum network.
Perhaps most impressive is how well the company has been able to identify winners this year. The fund's bet on the Bitcoin Investment Trust (GBTC) has been its most successful investment having more than tripled this year. On top of that, all but one of the current top 10 individual holdings is up at least 30% this year. The lone exception? Twitter (TWTR), which is up "only" 21%.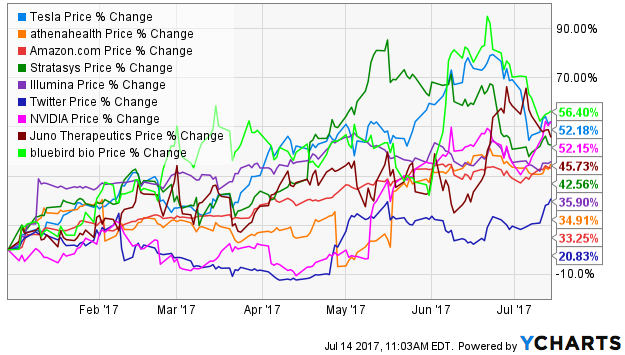 Despite a relatively underwhelming start (the fund lost 1% from inception through the end of 2016), it has had its coming out party this year returning a total of 46% for investors. But before you go jumping in to claim your untold riches, keep in mind that this is a volatile product which can drop as fast as it can go up. These are largely emerging technologies that the fund invests in and how well these innovations translate to the bottom line can fluctuate significantly and take a while to develop. The fund has a P/E ratio of 46, so investors are paying top dollar for these stocks. An expense ratio of 0.75% is also a little on the high side.
But the potential of these companies and technologies is without question. Just remember to buckle up and prepare for what could be a wild ride!
If you enjoyed reading this article, please be sure to share it below and subscribe to the site so that you don't miss any updates or new stuff! As always, thank you for taking the time to read!