The market continued rolling right along in the 1st quarter as corporate earnings growth and the prospect of tax and regulation reform kept investors in a good mood. For the quarter, the Dow Jones Industrial Average (NYSEARCA:DIA) was up 4.6%, the S&P 500 (NYSEARCA:SPY) added 5.5% and the Nasdaq Composite gained a remarkable 9.8%. Smaller companies, which had outperformed large caps by a significant margin in 2016, became laggards in 2017. The S&P 400 MidCap Index (NYSEARCA:MDY) was up 3.6% while the S&P 600 SmallCap Index (NYSEARCA:SLY) added just 0.6%.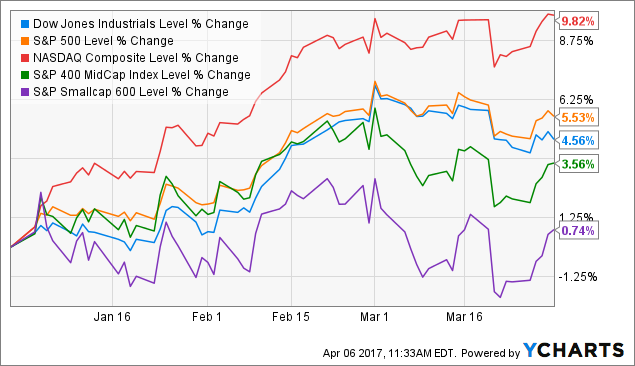 The economy continues to do well. Earnings and revenue growth have returned in a big way. After an earnings recession that resulted in five consecutive quarters of negative year-over-year earnings growth, things are again looking positive for corporate earnings. Analysts are forecasting 6.4% earnings growth in Q1 on roughly 6% growth in revenues. Consumer confidence readings are at levels we haven't seen in some 15 years. Unemployment rates are still hovering just below 5% while the core inflation rate has remained steady at around 2.2%.
Click the button below to read the rest of this original article on Seeking Alpha.
If you enjoyed reading this article, be sure to subscribe to the site and receive the ETF Focus Weekly newsletter absolutely FREE! Just check out the box below!